ORIENTAL RUG REPAIR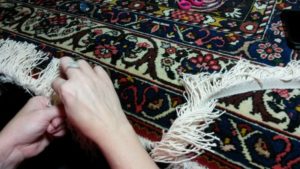 After you initially damage your rug, it will deteriorate very quickly. Once this starts to occur, it is very important to make the necessary repairs. When we get a hold of your floor piece, our experienced staff will be ready to inspect your rug for damage. We will determine how the rug was made and where the issues are located in order to develop a strategy to get your rug back to it's original condition. We then will use various techniques to repair your rug, while preserving its design and structure.
Fixing Under-Pads 
When you buy a beautiful rug, you take time picking out exactly where to put it. The last thing you want is a rug that slides around and becomes crooked. The padding that the rug rests on prevents this. We will take time to fix your rug's underpad, ensuring that your rug will not move around the room.
Fringe Replacement and Restoration
The tassels lining a rug is commonly known as the fringe. Over time the fringe can fray and collect dirt. Some rugs allow us to simply replace a damaged fringe, while others require careful restoration. We will skillfully take care of your rug's fringe regardless of the situation.
Overcasting
Very similar to the process of fringe replacement, overcasting is the process of replacing the edges of a rug through restitching. This reduces the risk of the rug unraveling. We will use the finest materials to repair the edges of your rug and prevent future damage.
Binding and Serging
Your oriental rug will either have a sewed fold on its edge called binding or a wrapped edge called serging. These act as adhesive and protective seals to the carpet. Damage to these edges can compromise the entire rug. We will keep this in mind while we carefully clean and repair your rug.
Rug Blocking
Over time, rugs can become wrinkled and misshapen.To fix this issue, we will first apply high-quality products to soften the material. We then will utilize state of the art machinery to reshape the fabric and carefully dry the carpet. We will use this process of rug blocking to restore your floor piece, leaving it flat and smoothed out
Re-weaving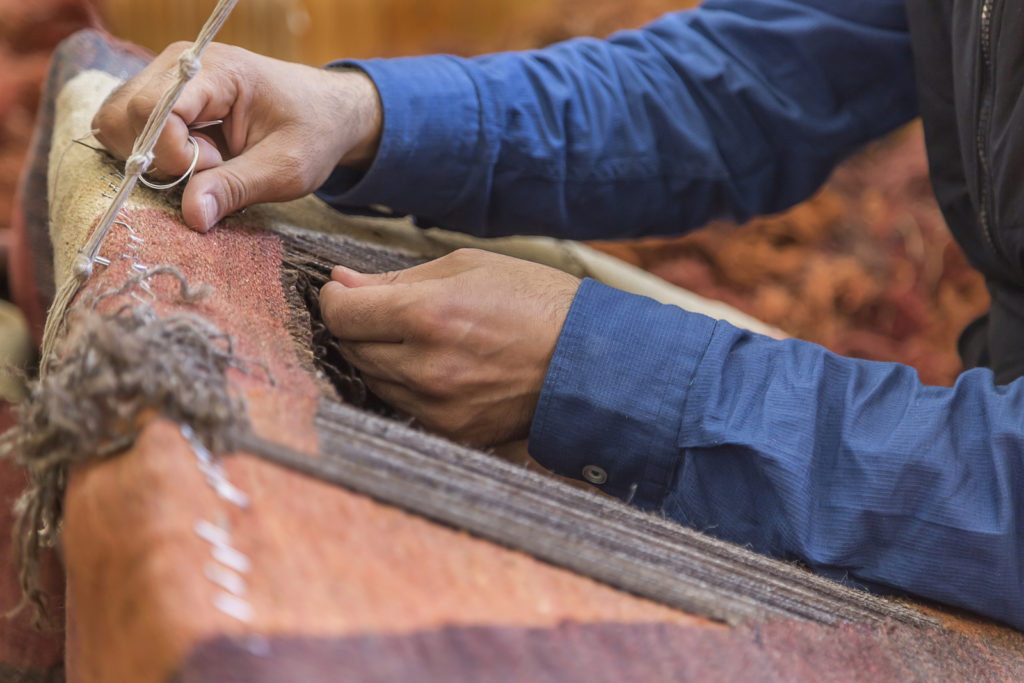 To repair severely damaged or particularly intricate rugs, we will use the process of re-weaving. Our professionals will match the color, fiber, and design of your rug and re-work the stitching. You should consult with us even if you believe your rug is beyond all repair.
Rug Cleaning
Sometimes the best repair we can do to your rug is a thorough clean. We have several strategies to sanitize your rug. We will start this process by performing a pre-wash dusting. We will then decide whether to dry clean your rug or immerse it in water. We will also disinfect and do odor treatment for pet stains. We will protect your rug in the future by moth proofing and reinforcing its surface with a teflon coating.
Repairs All Over
The delicate fibers of a your rug have a tendency to fray and tear.  Our experienced staff will repair damage to your beautiful rug no matter where a problem arises.
Best Rug Repair in NJ
Here at A&Z Carpet Care, we know that rugs are more than just floor piece. A beautiful carpet is a work of art, and a way to tie together the interior design of a room. An elegant rug can also be very expensive, we protect your investment! We are a professional staff trained to take the utmost care in repairing your valued rug. We will perform the repair techniques necessary to restore your rug to its initial state!